Glass Replacement Revolving Doors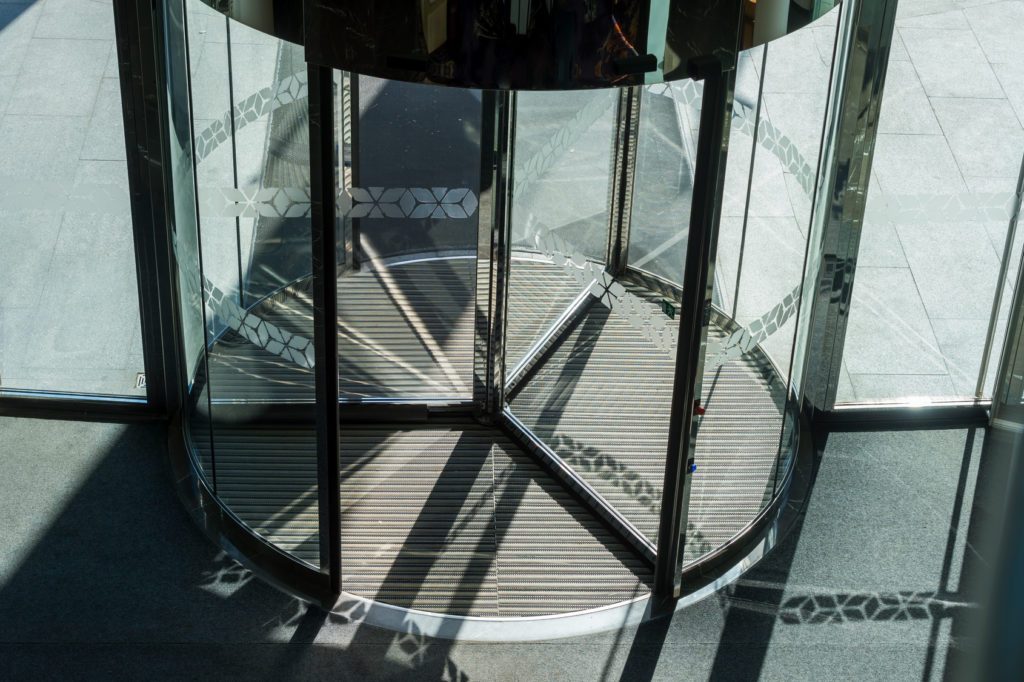 For Curved Glass Replacement Services that You Can Trust, Contact Preferred Window and Door
Revolving doors are an important and functional design aspect for many commercial businesses throughout Illinois and Indiana. These doors help to reduce energy usage, efficiently direct the flow of traffic, and are visually appealing, too. But just like all doors, repairs are sometimes necessary.
One repair need that, while uncommon, can be essential is that of glass replacement. Replacing curved glass is something that few businesses specialize in – at Preferred Window and Door, we're one of them. For curved glass replacement services for your commercial business' revolving doors, call our leading window and door company today.
How Revolving Door Glass Breaks
It is very, very rare for glass on a revolving door to break from something like the door becoming jammed, severe weather events, or even minor collisions with objects. Instead, most of the time, if the glass on a revolving door fractures or shatters, it is because of an act of vandalism, a break-in, or a large accident, such as a motor vehicle hitting the building. Regardless of the cause of the broken glass, however, if the glass is broken, you need emergency repair services to get things moving again.
Our Curved Glass Replacement Services for Revolving Doors
We know how important it is that you get the glass replacement services that you require, and fast. When glass on your revolving doors is broken, you don't have weeks and weeks to wait for a repair company to finally get around to fixing it – you need repair services immediately.
Not only do we provide emergency, same-day curved glass repair services for all of our commercial partners, but we do so while holding ourselves to a high standard, too. To be sure, we always adhere to AAADM and OSHA standards, prioritize worker safety, use the highest quality materials, and always rely on highly skilled and well-trained technicians.
But that's not all. We know that as a commercial business or community organization or government entity, you're on a budget; we strive to keep our prices as low as possible so that you can feel good about working with us without having to worry about how you'll possibly afford the bill.
We are trusted in the communities throughout the two states and have been in business for more than 20 years. Over our 20 years in business, we have developed meaningful relationships with our community partners and have continued to provide our customers with the highest quality customer service.